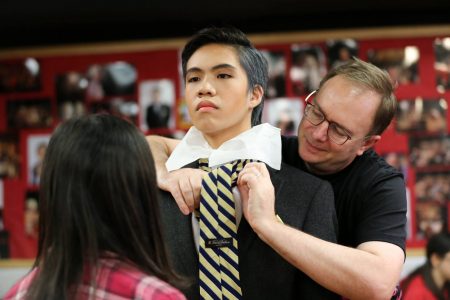 For our 2015 CDNIS upper school production of Legally Blonde: The Musical, I was one of the leaders for the Costume & Wardrobe team.  My role involved planning and organising outfits for each character (130+ outfits), working with my team to ensure that the backstage racks are properly organised for easy access between scenes, and during the live show, I worked right behind the set as the helper for quick changes, especially for the actress of the lead role, Elle Woods.
This helped me to develop the following skills:
• Leadership: this was a new experience for me as I have never worked on a school production before, however, I managed to still lead the team through delegation and organization whilst making creative decisions.
• Organization: this was a key skill in my role considering the large amounts of clothing and large group of actors we had, each outfit had their own hanger and were separated by actors and scenes. We all had specific place to be in order to most effectively get all the actors changed and ready for the next scene, and without organization, backstage would have been chaos.
• Teamwork & Problem Solving: not only did I have to work with the rest of my team to ensure everyone had their roles, I was working with the choreographers, the directors, the hair and makeup team, and the actors, it was really a team effort and although I learned that there is no way to please every single person, there is always a way to deal with the issue and compromise.
I have included a few photographs from the production to illustrate the types of costumes we had on stage:
Share this learning activity with others